One of the Top Commercial Landscape Maintenance Companies
Commercial Landscaping Services: Your Lawn is Our Top Priority
Introducing Dylan's Mowing, your go-to gardener who is dependable, effective, and reasonable. 
When it comes to residential and business garden maintenance in Brisbane, look no further than Dylan's Mowing. Reliability, quality, and efficiency are the name of our game. Don't waste time searching for "commercial landscape maintenance near me", contact us today.
Lawn & Garden Maintenance Services Tailored For You
We save our clients time and effort with a range of tasks like lawn mowing, tree trimming, commercial landscaping, rubbish removal, pressure cleaning, lawn care, and gardening.
At Dylan's Mowing, we handle all jobs – no matter how big or small. Our commercial landscape maintenance team is on it.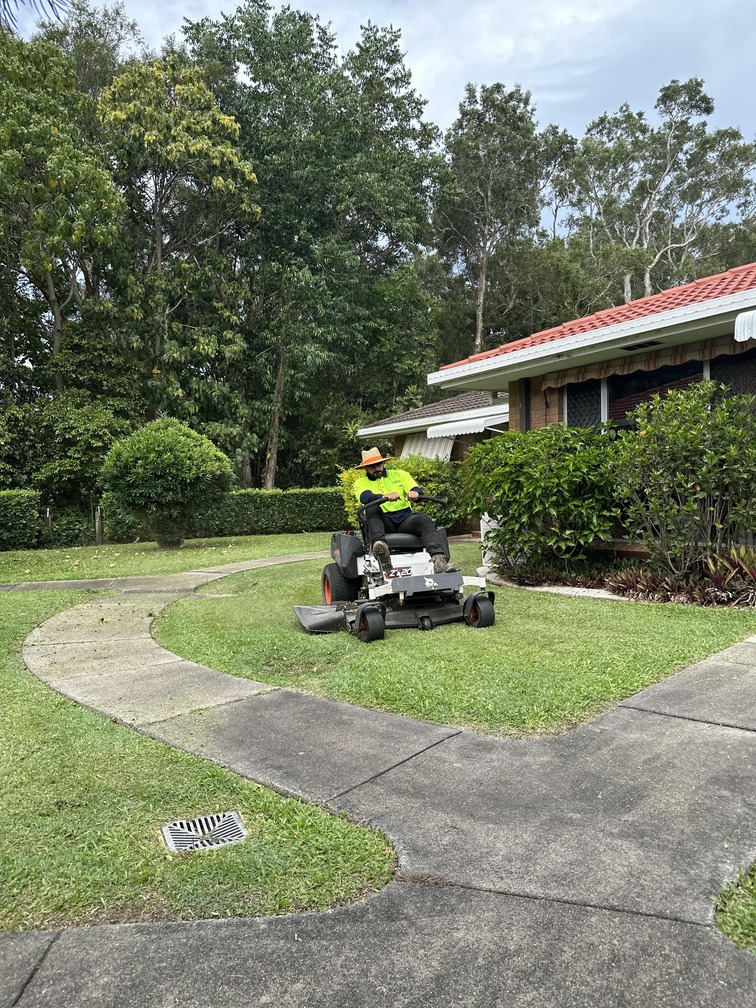 Premier Commercial Landscape Maintenance Services
Our expert landscapers have received extensive training in landscape features and maintenance, with experience in gardens throughout Brisbane. Our knowledgeable and effective gardening services include mulching, pruning, hedge trimming, plants, flowers, and weeds. As one of the most reliable
commercial landscape maintenance companies in Brisbane
, you can have peace of mind knowing your property is in good hands with our expertise!
Lawn Mowing Services – Brisbane Northside
Lawn mowing can be a time-consuming hassle, so leave it to us. You can book recurring appointments with the Dylan's Mowing team to keep your yard neat and tidy. Learn more about our Lawn Mowing Brisbane Northside services. Not to mention, we also provideSunshine Coast lawn mowing andGold Coast lawn mowing services.
Commercial Garden Maintenance Brisbane
Gardens are a beautiful addition to any residential and commercial property. They can add a touch of elegance and class to any space. Plus, gardens are a great way to attract stunning wildlife and provide a space for people to relax and enjoy nature. As one of the premier garden care services in Brisbane, our expert gardeners will work with you to achieve your garden goals. Get in touch with our garden management team today about our landscaping andgarden maintenance in Brisbane.
Commercial Property Pressure Cleaning
Pressure cleaning is ideal to get your property's first impressions up to scratch. We provide a variety of commercial pressure cleaning services in Brisbane – we clean driveways, footpaths, decks, car parks and more. Want to keep your property looking its best? Take pride in your surroundings and find out more about our high pressure cleaning in Brisbane here.
Professional Tree Trimming, Removal & Lopping
Looking to improve the look of your garden? Tree trimming is a great solution. Trimming your trees will help them stay healthy and free of pests. So it's a win-win for you and your plants! We offer efficient, reliable tree trimming, tree lopping and tree removal services to cater to your needs. If you're looking fortree trimming Brisbane north side,south side or central, contact us today to arrange a service.
Acreage Mowing
At
Dylan's Mowing
, we have the tools to make your acreage look its best year round. Our team of mowing experienced professionals will work diligently with our clients to get the job done right. Contact us today to learn more about our quality
acreage mowing services
. We can take care of your business or residential acreage, commercial properties, routine maintenance, weed control, or even just keeping up with the best lawn care service. We offer affordable, professional mowing services for acreage mowing in Brisbane, Sunshine Coast and surrounding areas. If you're looking for someone to take care of your property, we're here to help. We understand the unique challenges that come with acreage mowing and we're ready to tackle any job. Get in touch today to learn more about our services or to schedule a free consultation.
Get in touch today to learn more about our services or to schedule a free consultation.