Lawn Mowing Sunshine Coast
Exceptional Sunshine Coast Lawn Mowing
If you're seeking excellent lawn maintenance on the Sunshine Coast, you've come to the right place. At Dylan's Mowing, we have years of expertise in both residential and commercial client services. We're here to help you find the perfect solution for your needs. 
Lawn Mowing Sunshine Coast – Excellent Service
Whether you require Sunshine Coast lawn mowing services or need help with a home project or a commercial venture, we have the experience and knowledge to get the job done right.
Looking to get your lawn mowed with a reliable service? Our crew prioritise excellent work and will do an awesome job. We love to chat about our lawn mowing services so give us a call today – we're happy to answer any questions you may have. 
Benefits of Professional Lawn Mowing Services
Eye Catching Lawns, Gardens and Yards
A well-manicured lawn can provide a number of benefits, from improved curb appeal to increased property value. But in order to keep your lawn looking its best, you need to put in some regular TLC – including lawn mowing. Looking for a break from lawn and garden care? Leave it to the professionals! We're happy to take on the task so you can enjoy your free time.
Keep Your Garden Healthy
While it may seem like a tedious chore, mowing actually offers a number of benefits for your lawn. First, it helps to control the height of your grass, preventing it from getting too long. Mowing also encourages grass to grow vertically, rather than horizontally. This helps the grass develop a deeper root system, making it more resistant to drought and heat stress. Your lawns, trees and garden beds will thank you!
Customized Lawn Maintenance For Your Needs – Sunshine Coast
Knowing that every lawn is unique, we take the time to evaluate your lawn maintenance and garden care needs in order to offer the best service. Our reliable lawn mowing service will leave your lawns looking pristine. We also provide full-scale
Sunshine Coast garden maintenance
that we provide include leaf removal, pruning, and hedge cutting. So whether you need a one-time cut or routine upkeep, we can help you maintain the best-looking lawn. To learn more, get in touch with us.
Helpful Gardeners & Excellent Sunshine Coast Lawn Mowing Service
Our staff provides the best lawn mowing services Sunshine Coast has to offer and are fully qualified in gardening and lawn care. Regardless of the size or type of lawn, we have the tools and know-how to complete the task swiftly, effectively, and at a high standard. Our expert will work diligently to get the job done right, and we'll make sure you're happy with the results.
NDIS Lawn Mowing Sunshine Coast
Our trained and reliable lawn care team will provide NDIS participants with disability assistance services around the house and yard. From weeding, landscaping, and hedge trimming to a general yard clean – we're on it. Discover more about our garden care services in Brisbane and chat with us today about your NDIS options.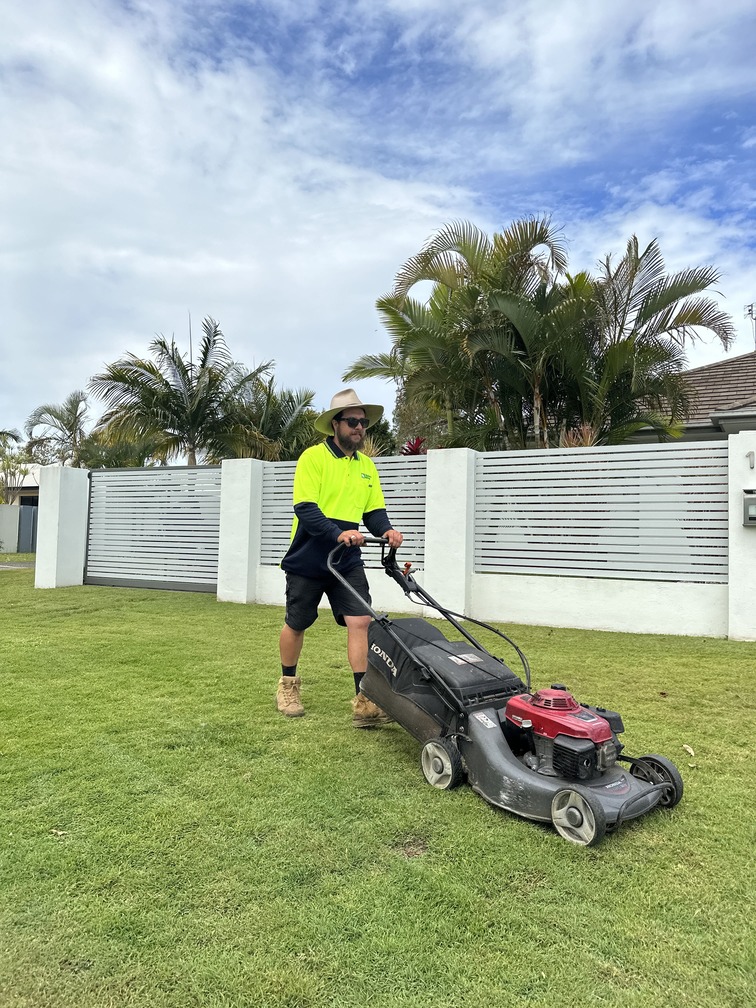 Bring Out Your Lawn's Full Potential
Top Priority: Efficient, Quality Lawn Maintenance
We make it our top priority to ensure that your lawn looks green and lush when you look out of the window. No matter what part of the Sunshine Coast you're in, we're here to make sure your yard is something for you to admire.
Excellent Lawn Care Services In Sunshine Coast
The Dylan's Mowing team is fully certified and insured. We place an emphasis on reliability, making sure every job is done with an exemplary standard of care. We strive for excellence each and every one of our visits, leaving no stone unturned in the pursuit of perfection.
So if you're looking to get your lawn spruced up in stunning Sunshine Coast weather without any hassle, then we've got you sorted. Put your lawn mower away – we're on it.