Pressure Cleaning Brisbane
Affordable & Expert Brisbane Pressure Cleaning
Looking for a reliable and affordable
pressure cleaning service in Brisbane
? Look no further than our team at Dylan's Mowing! We offer a wide range of pressure cleaning services to suit your needs, from driveways and carparks to property exteriors.
Gold Coast, Sunshine Coast & Brisbane High Pressure Cleaning
Pressure Cleaning is a great way to get your driveway, patio, or deck clean and looking new again. 
Our pressure washers use a high-pressure stream of water to remove dirt,
mud, and other debris from the surface. This is a quick and easy way to get your outdoor surfaces looking like new again.
Thinking About Pressure Washing Your Home or Property?
A good cleaning can make your home look better than ever, and can even help protect it from damage in the long run. Plus, pressure cleaning is often required by building codes and homeowners associations as part of their regular maintenance requirements.
Experienced Brisbane Pressure Cleaning Team
Our fully licensed team uses the latest pressure cleaning equipment and techniques to get the job done efficiently, so you can enjoy a clean and clutter-free property.
Quality Brisbane Pressure Cleaning Services
We offer a range of pressure cleaning services for both residential and commercial properties, and our friendly team of experienced and qualified professionals will ensure that your property is clean and safe before we leave. When it comes to
strata pressure cleaning in Brisbane
, we're on the job.
Reliable Brisbane High Pressure Cleaning Services to Save You Time
Save yourself the hassle and leave it to the experts. We offer
pressure cleaning services in the Brisbane
area that will make your property look good as new.
Commercial Pressure Cleaning Brisbane
Whether it's offices, shopping centres or car parks, commercial
pressure cleaning in Brisbane
is a popular service to keep your business looking clean. Plenty of businesses rely on the power of high-pressure water to clean surfaces and remove dirt, grime, and other unwanted material. Commercial pressure cleaning can be used on a variety of surfaces, including concrete, asphalt, wood, and metal. It's an ideal solution for cleaning large areas quickly and efficiently. And, because it doesn't rely on any harsh chemicals, it's also environmentally friendly! We offer a wide range of commercial
pressure cleaning services in Brisbane
to suit your needs.
Strata Pressure Cleaning Brisbane
Did you know that a professional strata pressure cleaning service can help improve the appearance and value of your property? At Dylan's Mowing, we offer reliable and affordable
strata pressure cleaning in Brisbane
. Our experienced team is dedicated to providing quality service and results that you can be proud of. Our washing services are cost effective and time saving, with a complete range of pressure cleaning and maintenance on offer. Contact us today for a quote!
FAQs about Brisbane Pressure Cleaning
Pressure cleaning is the process of using high-pressure water to remove dirt, grime, and other build-up from surfaces. Our high pressure cleaning services are ideal for commercial and residential properties.
It's an effective way to clean a variety of surfaces, including driveways, footpaths, decks, and patios. It's also an excellent way to prepare a surface for painting or staining.
Exterior surfaces, accumulated dirt, concrete floors and concrete cleaning, driveway cleaning, gutter cleaning, house washing, oil stains – we'll tackle the job head-on. Doesn't matter if it's a commercial property or a warehouse cleaning, Dylan's Mowing has all the equipment needed for a successful pressure cleaning.
It will make your home look cleaner and brighter 
It will get rid of any built-up dirt or stains on the siding or driveway 
It can help protect your home from water damage and corrosion in the future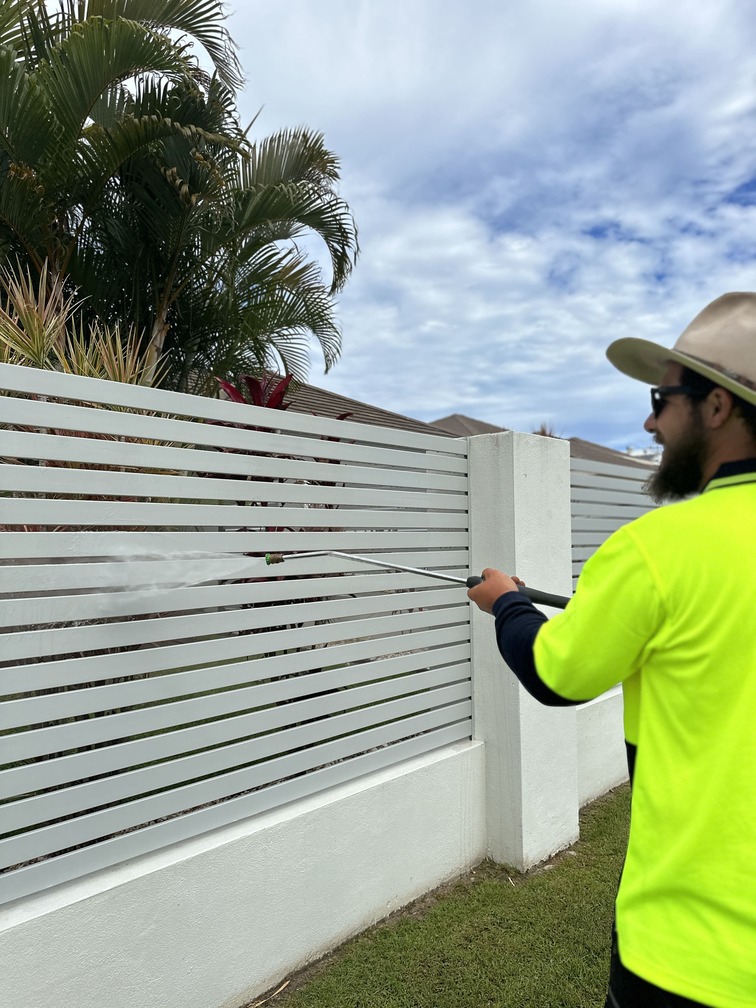 Contact Us Now & Get a Free Quote
Get your driveway, patio or decking looking like new again and give us a call today for our high pressure cleaning service!